What is ESCAPE-pain?
ESCAPE-pain is a group-based, rehabilitation programme for the management of osteoarthritis of the knee or hip.  The programme can help you manage your pain, better understand your condition, and help you stay active.  ESCAPE-pain is free and is supported by NHS England.
If you have knee or hip pain, you could benefit by joining one of our ESCAPE-pain classes:
Meet other people living with osteoarthritis.

Learn simple ways to better manage knee and hip pain.

Get a gentle, individualized exercise programme that matches your needs and pace.
"It has really changed my life in the way that I manage my knee pain, and the confidence it has given me."
The Benefits
Supported by clinical evidence
IMPROVES MENTAL WELL-BEING, SELF-CONFIDENCE, AND SELF-ESTEEM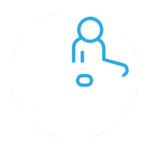 IMPROVES PHYSICAL FUNCTION
Is ESCAPE-pain for you?
Aged 45 years or older and live in Bristol, North Somerset, or South Gloucestershire

Have had chronic joint pain for at least 3 months

In need of a supervised exercise programme
Independently mobile and able to carry out regular exercise.

Available to attend 2 classes per week for 6 weeks

You must be able to download or have access to the ESCAPE-pain App
MAKE CONTACT
If you could benefit from taking part in any of the above sessions, please speak with your local GP practice or Health Care Professional.
"I've just completed an Escape Pain course, and to be honest, I was dreading it and couldn't see it being for me but the Healthy Lifestyle Specialist was brilliant.  She made it fun, was patient and knowledgeable and nothing was too much trouble for her.  She's a credit to Longwell Green Active Centre. Thank you." – Deb Tattersall